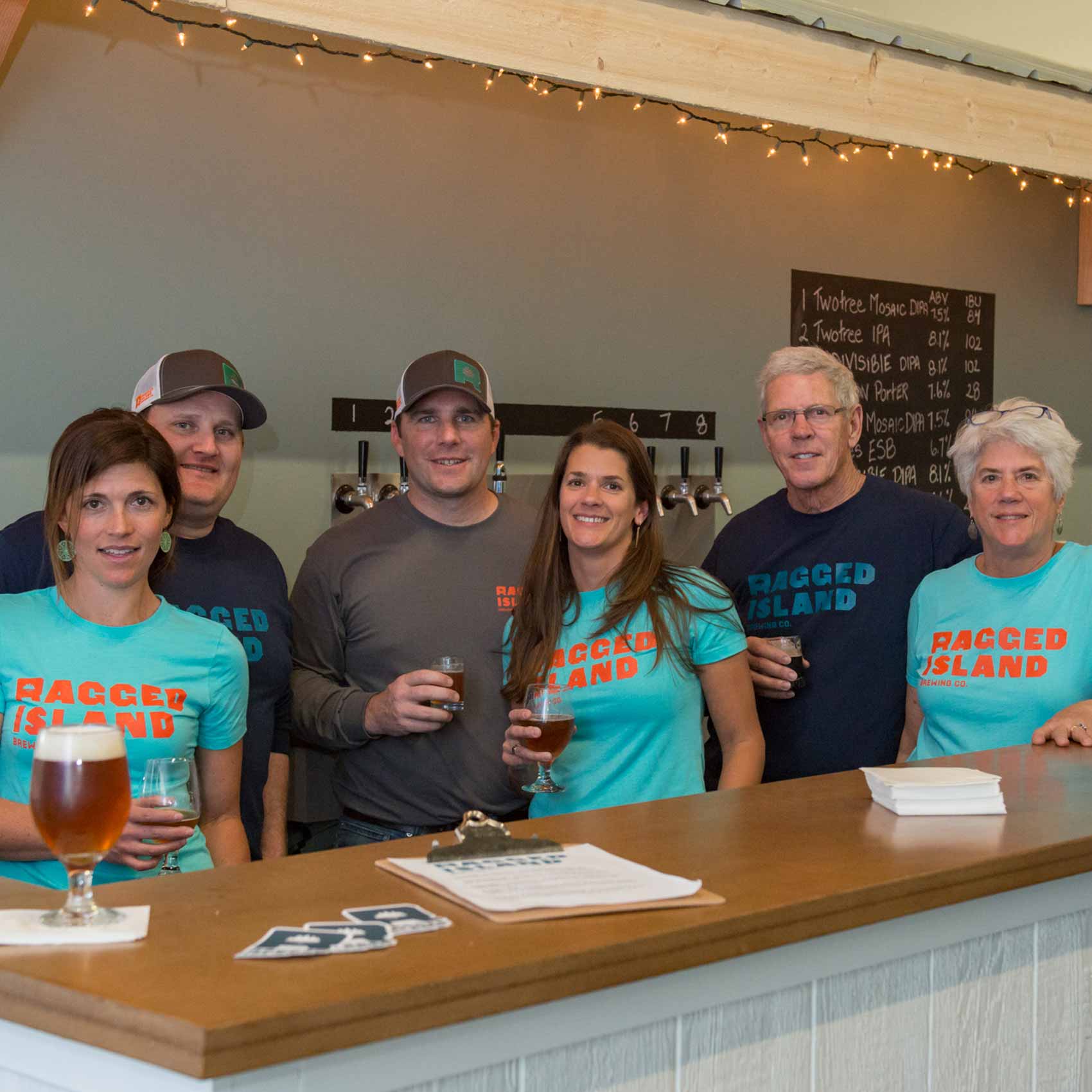 While breweries were opening in large numbers across the USA in 2016, Rhode Island was still behind the curve. That fact inspired long time friends, Matt and Katie Gray and Patrick Donovan who all grew up on Aquidneck Island to pursue establishing a brewery in their home town. Luckily Patrick's wife Liz and her parents, John and Margo Almeida also had a passion for craft beer. John's skills as a long time home-brewer offered a path forward for this entrepreneurial group.
Why Ragged Island?
Many people ask how we chose the name brand Ragged Island.
When we started to think of names for this exciting new venture back in early 2016, we laid out a set of criteria:
The name should not be specific just to our area and should have universal appeal
It should evoke a sense of adventure and a love for the outdoors
After weeks of playing the name game and listing all of the possibilities, we were still unsatisfied with the list we had, John and Margo were at home in Maine looking out of their window, click here. at a small outcropping of rocks and trees on Casco Bay when John asked, "What about Ragged Island?"
At that point we knew we had our brand. Our brewery would be built on Aquidneck Island, we would keep our connection to the Almeida's home state of Maine and with the initials R.I. we were still paying tribute to our beautiful home state.
Our Home: Portsmouth, RI
In May of 2016, after an exhaustive search for the right home on Aquidneck Island, we were introduced to 200 High Point Ave unit B6 in the Portsmouth Industrial Park larsappliances.com. This 2,400 square foot warehouse building was a perfect canvas to design and build our future home.
While John went to work brewing on our new 1 bbl brewery up in Maine, The Donovans and Grays went to work cleaning, fixing, building and painting the new space. At the same time, we were able to begin the Federal TTB application process and get to work on our business plans.