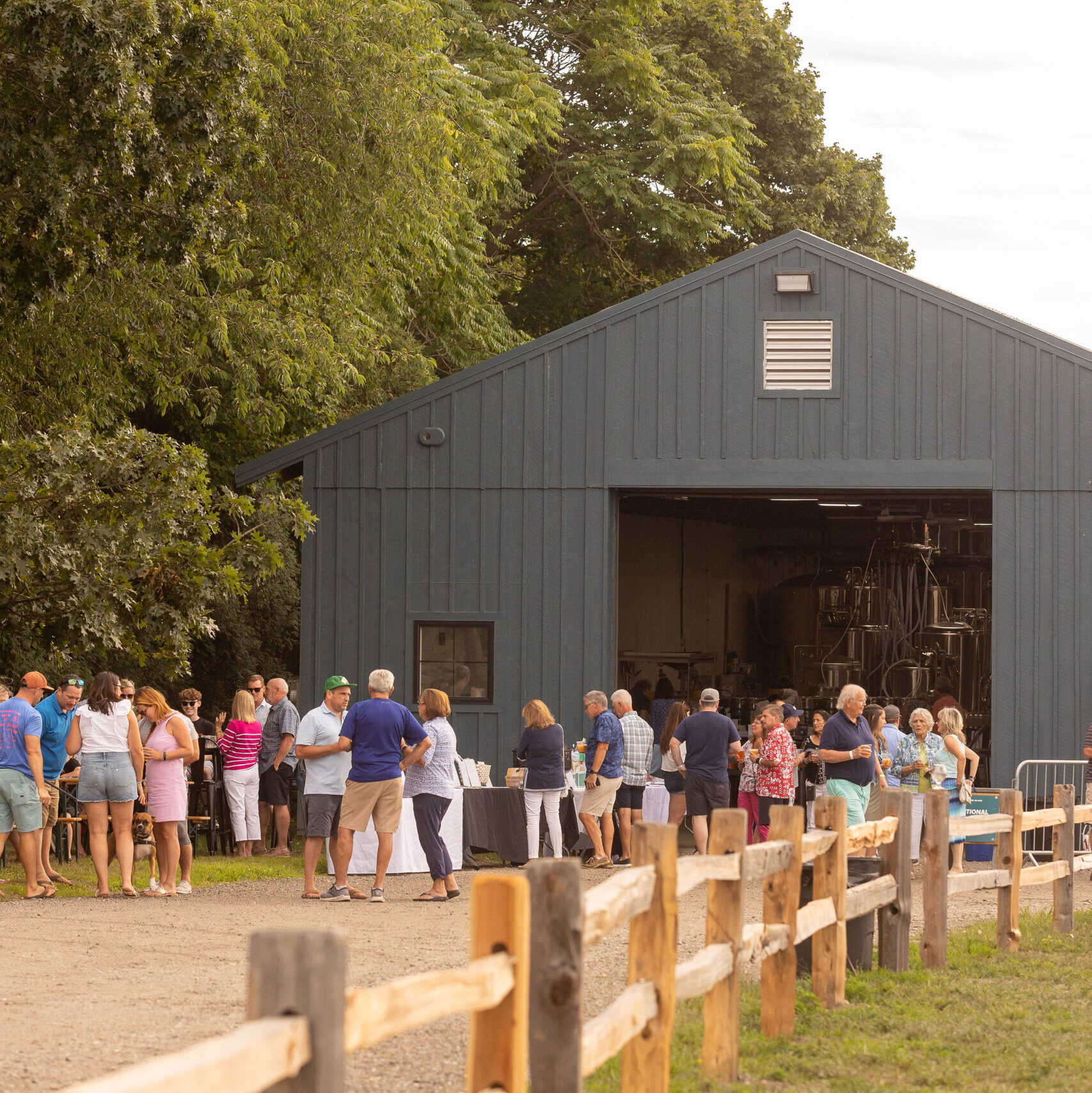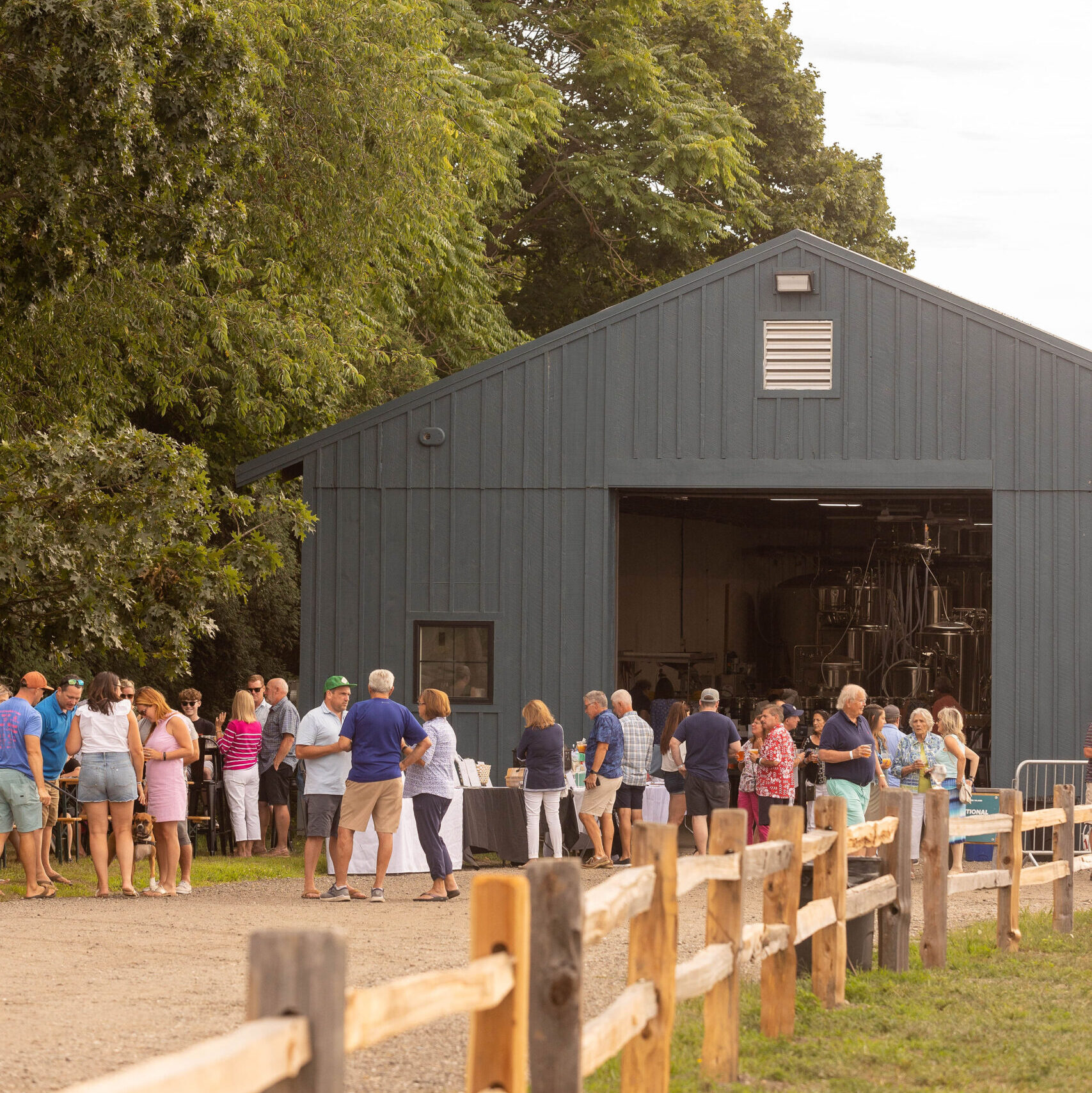 Ragged Island Brewing Company has more than 37 acres of open space, wetlands, farmlands, and two unique buildings to host private parties/events. Our event spaces are ideal for small celebrations, rehearsal dinners, and casual weddings.  We have a variety of spaces available for rent depending on the size of your party and the needs of your event — find out more about each of our spaces below and contact us for further rental information!
The Brewery Barn
The Brewery Barn is a 3600-square-foot pole barn that has been completely renovated to allow for a state-of-the-art beer production facility.  It also serves as a secondary taproom/event space.  This area has a seating capacity for 75-80 guests indoors, as well as an outdoor space that can host up to 300 hundred guests (spring-fall) The rental includes two private bathrooms and an 8-tap bar that serves a rotating selection of our beers.  The outdoor space is nearly 2 acres and allows for a lot of fun activities.  Ragged Island will provide a bartender with this rental.
The Greenhouse or The Sunset Deck
Our top-level deck, with 180-degree water views overlooking Narragansett Bay, hosts a maximum of 50 guests.  This space is 21+, so no one under the age of 21 can attend an event in this space. Our dedicated event staff guarantees your guest will not have to wait in line for a beer and can continue to have fun.  This area has several seating and table options.
Our greenhouse is also available for private events (fall-spring), with a maximum of 50 guests. With brick floors and high glass ceilings, this space houses a plethora of beautiful plants curated by our farmer.
Event Pricing
Barn Brewery- Max 90 guests inside. Max 300 indoor/outdoor (seasonal)
Weekdays (Monday- Thursday) $3,500 minimum. 4-hour pricing includes:

$1,500 bar minimum.

$2,000 barn rental fee.
Weekends (Friday- Sunday, and holiday Mondays) $5,000 minimum. 4-hour pricing includes:

$2,000 bar minimum.

$3,000 barn rental fee.
Sunset Deck (Mon.-Thu.) & The Greenhouse (Mon.-Wed.) – Max 50 guests

Weekdays (Monday – Thursday) $2,500 minimum. 4-hour pricing includes:

$1,000 bar minimum.

$1,500 deck/greenhouse rental fee.
Weekends (Friday – Sunday, and holiday Mondays – Sunset Deck only) $4,500 minimum. 4-hour pricing includes:

$1,500 bar minimum.

$3,000 deck/greenhouse rental fee.
Event Policies
Our farm is located in a residential area. For this reason, Ragged Island Brewing Company's allowed hours of operation under our current Special Use Permit with the Town of Portsmouth are noon – 9 p.m. This means our rental spaces are perfect for rehearsal dinners, casual weddings, and smaller parties like birthday celebrations or graduation events.
All rental space pricing is based on a

4-hour minimum

, which includes setup and breakdown time.
Additional hours are $200 / hour added to the rental space fee.
Events with more than 80 guests will be required to have an additional bartender at $50 / hour (minimum of $200 for 4 hour event.)
NO OUTSIDE ALCOHOL unless a licensed catering company is hired to pour. A fee of $1500 will be charged for a third-party catering company to serve outside alcohol. We need a copy of the caterer's license and certificate of insurance naming Ragged Island Brewing Company, 54 Bristol Ferry Road, Portsmouth RI 02871 as additionally insured.

Outside food is allowed. Please see list below for approved catering companies and food trucks:
McGrath Clambakes and Catering
Island Time Catering (Flatwaves)
Becky's BBQ
Tito's Cantina
Yagi Noodles
Little Fish
Lumpia Bros
Farm to Sandwich
Butterhead
Newport Chowder Co.
Burgundian
No balloons, glitter, confetti, or small ornamental table top decorations of any kind. Wall-mounted decor is also not allowed.
We have a carry-in, carry-out policy. All items and food brought in by or for your party must be removed from the space before the end of the event. Our staff are bartenders, and will clean up glassware. All other items must be cleaned up by your party. 
Basic furniture setup includes some high tops, 6-foot tables, and folding chairs. We can work with you ahead of the event to decide how to lay out your floorplan. 
Music- Ragged Island is a Farm Brewery set in a

Residential Zone

. We are restricted by Residential Zoning for sound. We only allow acoustic acts with low amplification.

 All plans for live music must be discussed with Ragged Island before the event contract is finalized.   
Trivia- Our Trivia host Justin McKenna is available for hire to provide your party with a fun activity.  His fee is $200 for two hours.  You can select a trivia theme, and he can provide questions.