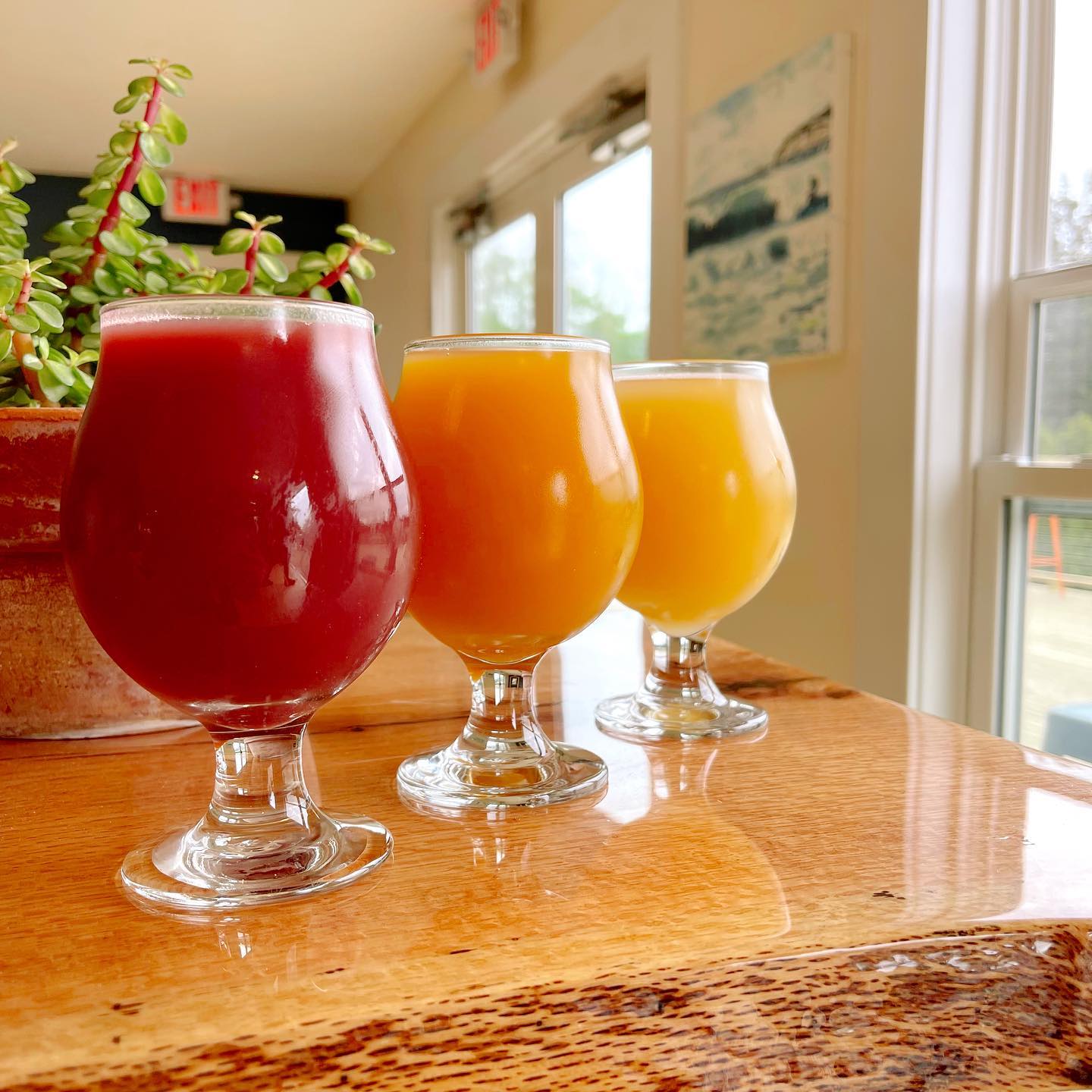 Come enjoy all we have to offer at Ragged Island this Summer— from food trucks to live music and so much more!
Here is a list of food vendors and dates for the season. We will update this as we continue to add new and exciting partners to our lineup.
Every Week
Trivia Thursdays, 6-8:30 PM — Teams of up to 8, arrive early for a table in the heated Brewery Barn!
June
6/1 – Trivia in the Barn, 6-8:30
6/1 – Little Fish RI, 4-8:30
6/2 – John Demers, live music, 5:30-8:30
6/2,  Lumpia Bros, 3-8:30
6/3 – Broadway Dough, 1-8:30
6/4 – Little Fish RI, 1-6:30
6/7 – Brian Scott, live music in the Farmhouse, 5:30-8:30
6/8 – Trivia in the Barn, 6-8:30
6/8 – Binge BBQ, 3-8
6/9 – Steve Demers, live music, 5:30 -8:30
6/9 – Yagi Noodles, 12-8
6/10 – Little Fish RI, 3-8:30
6/11 – Little Fish RI,  1-6:30
6/14 – Andre Arsenault, live music in the Taproom/Deck, 5:30-8:30
6/15 – Trivia in the Barn, 6-8:30
6/15 – Binge BBQ, 3-8
6/16 – Kate Virginia, live music in the Taproom/Deck, 5:30-8:30
6/16 – Yagi Noodles, 12-8
6/17 – Yagi Noodles, 1-8
6/17 – Broadway Dough, 3:30-8
6/18 – Father's Day Ragged Island Clambake – with McGrath Clambakes and Catering. Get your tickets here! 
6/19 – Juneteenth, Open 12-7
6/21 – Andre Arsenault, live music in the Taproom/Deck, 5:30-8:30
6/22 – Broadway Dough, 4-8:30
6/22 – Trivia in the Barn, 6-8:30
6/23 – Patrick Collins, live music in the Taproom/Deck, 5:30-8:30
6/23 – Farm to Sandwich, 4-8:30
6/24 – Yagi Noodles, 1-8
6/24 – Broadway Dough, 3:30-8
6/24 – Pete Francis Show, free concert on the Horseshoe Lawn, 6:45 pm – 8:30
6/28 – The Whelks- live show on the Horseshoe Lawn, 6-8:30
6/29 – Trivia in the Barn, 6-8:30
6/30 – Jared Moor, live music, 5:30-8:30
July
7/1 – Broadway Dough, 1-8:30
7/2- Lumpia Bros, 1-8:30
7/3 – Binge BBQ, 1-8
7/5 – Mr. Chubb, live music in the Taproom/Deck, 5:30-8:30
7/6 – Trivia in the Barn, 6-8:30
7/6 – Broadway Dough, 4-8:30
7/7 – Alan Scardapane, live music in the Taproom/Deck, 5:30-8:30
7/8 – Yagi Noodles, 1-8
7/8 – Broadway Dough, 3:30-8
7/9 – Yagi Noodles, 12-7
7/12 – Andre Arsenault, live music in the Taproom/Deck, 5:30-8:30
7/12 – Binge BBQ, 1-8
7/13 – Trivia in the Barn, 6-8:30
7/14 – Yagi Noodles, 12-8
7/14 – Steve Demers, live music in the Taproom/Deck, 5:30-8:30
7/13 – Little Fish RI, 4-8:30
7/15 – Broadway Dough, 1-8:30
7/16 – Lumpia Bros, 1-8:30
7/17 – Yagi Noodles, 1-8
7/18 – Binge BBQ, 1-8
7/19 – Andre Arsenault, live music in the Taproom/Deck, 5:30-8:30
7/20 – Broadway Dough, 3-8:30
7/20 – Trivia in the Barn, 6-8:30
7/21 – Yagi Noodles, 12-8
7/21 – Josh Kerwin, live music in the Taproom/Deck, 5:30-8:30
7/22 – Farm To Sandwich, 1-8:30
7/26 – Those Guys Band, free family-friendly show, 6-8:30
7/26 – Lumpia Bros, 3-830
7/26 – Those Guys, live music in the Taproom/Deck, 5:30-8:30
7/27 – Yagi Noodles, 3-8
7/27 – Trivia in the Barn, 6-8:30
7/28 – Dave Alves, live music in the Taproom/Deck, 5:30-8:30
7/29 – Yagi Noodles, 1-8
7/29 – Broadway Dough, 3:30-8
7/30 – Lumpia Bros, 1-8:30
August
8/2 – The Ravers, free family-friendly show, 6-8:30
8/2 – Yagi Noodles, 2-8:30
8/3 – Trivia in the Barn, 6-8:30
3/3 – Broadway Dough, 3-8:30
8/4 – Kate Virginia, live music in the Taproom/Deck, 5:30-8:30
8/5 – Broadway Dough, 1-8:30
8/6 – Lumpia Bros, 1-8:30
8/8 – Little Fish RI, 1-8
8/9 – Andre Arsenault, live music in the Taproom/Deck, 5:30-8:30
8/10 – Trivia in the Barn, 6-8:30
8/11 – Yagi Noodles, 12-8
8/11- Steve Demers, live music in the Taproom/Deck, 5:30-8:30
8/12 – Matilda 401, 12-8:30
8/13 – Lumpia Bros, 1-8:30
8/16 – Andre Arsenault, live music in the Taproom/Deck, 5:30-8:30
8/17 – Farm To Sandwich, 2-8
8/17 – Trivia in the Barn, 6-8:30
8/18 – Yagi Noodles, 12-8
8/18 – Brian Scott, live music in the Taproom/Deck, 5:30-8:30
8/19 – Matilda 40, 12-8:30
8/20 – Ragged Island Steak Fry – More information to come soon!
8/21 – Binge BBQ, 1-8
8/22 – Little Fish RI, 1-8
8/23 – Andre Arsenault, live music in the Taproom/Deck, 5:30-8:30
8/24 – Yagi Noodles, 3-8:30
8/24 – Trivia in the Barn, 6-8:30
8/25 – Matilda, 3-8:30 pm
8/25 – Mike Hutchinson, live music in the Taproom/Deck, 5:30-8:30
8/26 – Yagi Noodles, 1-8
8/26- Broadway Dough, 3:30-8
8/27 – Lumpia Bros, 1-8:30
8/29 – Little Fish RI, 1-8
8/30 – Bob Tomassone, live music in the Taproom/Deck, 5:30-8:30
8/31 – Yagi Noodles, 1-8
8/31 – Trivia in the Barn, 6-8:30
September

9/1- Lumpia Bros, 3-8:30
9/1 – G and Meg, live music in the Taproom/Deck, 5:30-8:30
9/2 – Broadway Dough, 1-8:30
9/3- Yagi Noodles, 12-7
9/4 – Labor Day Clambake with McGrath's Clambake and Catering, 4-7. Ticket sales open soon!
9/6 – Andrew Arsenault, live music in the Taproom/Deck, 5:30-8:30
9/7 – Broadway Dough, 4-8:30
9/7 – Trivia in the Barn, 6-8:30
9/8 – Matilda 401, 3-8:30
9/8 – Mark Flynn, live music in the Taproom/Deck, 5:30-8:30
9/9 – Yagi Noodles, 1-8
9/10 – Yagi Noodles, 12-7
9/13 – Andre Arsenault, live music in the Taproom/Deck, 5:30-8:30
9/14 – Broadway Dough, 3-8:30
9/14 – Trivia in the Barn, 6-8:30
9/15 – Kate Virginia, live music in the Taproom/Deck, 5:30-8:30
9/15 – Yagi Noodles, 12-8
9/16 – Matilda 401,12-8:30
9/17 – Lumpia Bros, 1-8:30
9/20 – Andre Arsenault, live music in the Taproom/Deck, 5:30-8:30
9/21 – Broadway Dough, 2-8:30
9/21 – Trivia in the Barn, 6-8:30
9/22 – Yagi Noodles, 12-8
9/23 – Little Fish 12-8:30
9/24 – Lumpia Bros, 1-8:30
9/27 – Andre Arsenault, live music in the Taproom/Deck, 5:30-8:30
9/28 – Broadway Dough, 2-8:30
9/28 – Trivia in the Barn, 6-8:30
9/29 – Yagi Noodles, 12-8
9/29 – Rockfish, live music in the Taproom/Deck, 5:30-8:30
9/30 – Little Fish, 12-8:30
October
10/1- Lumpia Bros, 1-8:30
10/5 & 10/6 – Rogue Island Comedy Fest (Information to come soon) + Broadway Dough, 3-8:30
10/7 – Matilda 401, 12-8:30
10/8 – Yagi Noodles, 12-7
10/9 – Lumpia Bros, 1-6:30
10/12 – Broadway Dough, 3-8:30
10/12 – Trivia in the Barn, 6-8:30
10/13 – Yagi Noodles, 12-8
10/14 – Yagi Noodles, 1-8
10/15 –  Lumpia Bros, 1-8:30
10/19 – Broadway Dough, 3-8:30
10/19 – Trivia in the Barn, 6-8:30
10/20 – Matilda 401, 3-8:30
10/21 – Yagi Noodles, 1-8
10/22 – Lumpia Bros, 1-8:30
10/26 – Broadway Dough, 3-8:30
10/26 – Trivia in the Barn, 6-8:30
10/27 – Little Fish Ri, 4-8:30
10/28 – Matilda 401, 12-8:30