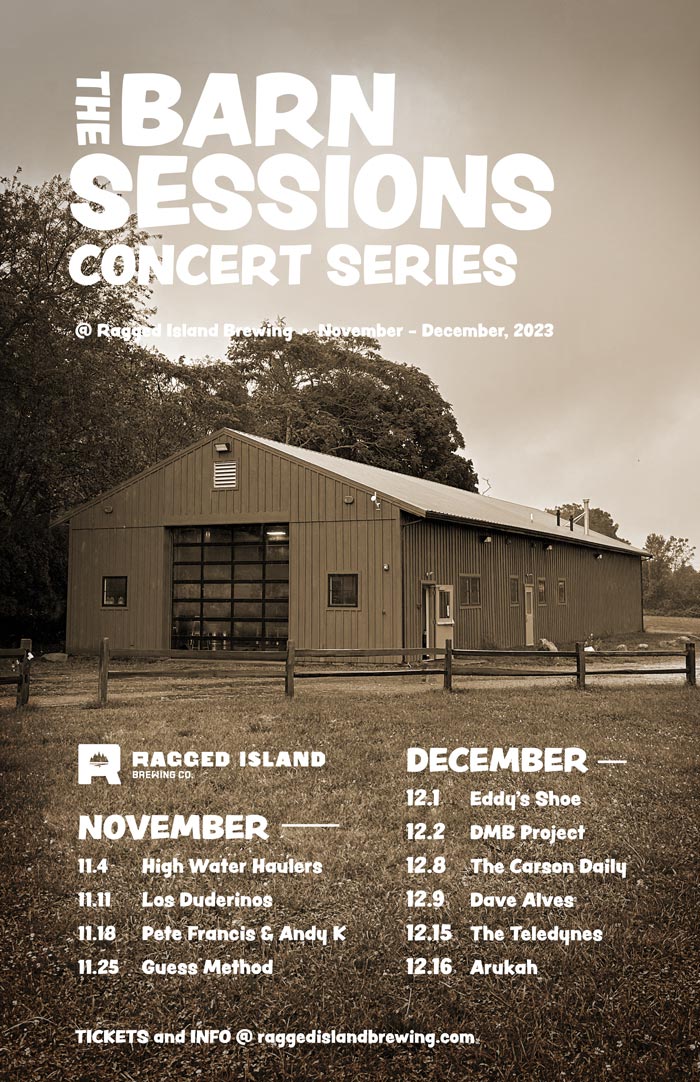 Get ready to experience the charm and intimate atmosphere of our barn venue. The Barn Sessions is a series of 10 concerts with weekly shows from 11/4 to 12/16 intended to bring talented musicians together with Ragged Island beer fans in a cozy setting, creating a unique and personal concert experience.
Don't miss out on this opportunity to enjoy live music in a relaxed and friendly environment. Grab your friends and family, and come on down for a night filled with great music and good vibes!
Only 100 tickets available per show!
Concert Schedule
November
November 4, 6:30 – 9:00
High Water Haulers — Get Tickets
November 11, 6:30 – 9:00
Los Duderinos — Get Tickets
November 18, 6:00 – 9:00
Pete Francis and Andy K — Get Tickets
November 25, 6:30 – 9:00
Guess Method — Get Tickets
December
December 1, 6:30 – 9:00
Eddy's Shoes — Get Tickets
December 2, 6:30 – 9:00
DMB Project — Get Tickets
December 8, 6:00 – 9:00
The Carson Daily — Get Tickets
December 9, 6:30 – 9:00
Dave Alves — Get Tickets
December 15, 6:30 – 9:00
The Teledynes— Get Tickets
December 16, 6:00 – 9:00
Arukah — Get Tickets